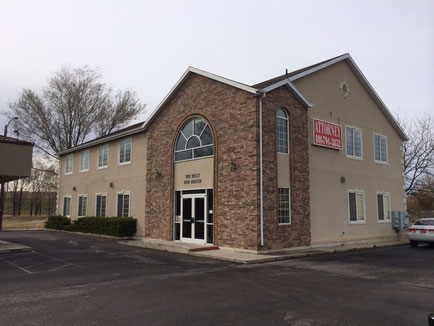 I just wanted to write a short blog entry about my experience in buying this dental practice.  
This practice was owned and operated by Dr. Ken Palmer for many years.  I believe about 15 years.  While here he built up a great practice, and developed a loyal following. From what I hear he had a vibrant and contageous personality. It has been hard to hear how his death effected so many of his patients. Any time someone passes away unexpectedly it will have a more dramatic effect on people. As I have heard the stories people share about Dr. Palmer I wonder if I will be able to have a similar impact on people. I like to believe so, but time will ultimately tell. I hope all those patients that enjoyed seeing him will continue to have great experiences with our office. The hygienists are still here (Lindsey and Linda), and so is the Front Desk (Sherron).  There are familiar faces here. 
I have been looking for a practice to buy for quite a while.  I owned my own practice in Montrose, CO. for 4 years. It was a great learning experience.  I had some great staff members. I had a wonderful assistant named Leilani. She had tons of experience, and she helped me tremedously. There were times I would look up at her while working on a patient and ask with my eyes, "how am I doing?  does this look right?"  Dental school can only teach a dentist so much in 4 years (thank goodness for continuing education). I had a spit fire front desk person named Kim. She had my back (they all did). She was nice, and tough. A great combination if you ask me. Ana was so loyal, and Alicia was fun and smart and a great Hygienist. I could go on and write about all of them and how they made me a better dentist. They deserve to be told how great they were.
Ultimately we left Montrose on a business venture. That venture turned out to not be as great as I anticipated and I found myself without a practice. By chance we found an opportunity to come back to Utah so here we are. I was fortunate to get a great job with a practice in Salt Lake City.  A place called Legacy Dental.  My boss's name was Jonathon Campbell.  He is a VERY good dentist, and was/is a great mentor. We were busy. I did a lot of extractions and root canals there.  I love doing those procedures now. Working at Legacy Dental gave me a lot of confidence in those two procedures. If you are in SLC and you need a dentist go see him.  Here is his website www.legacydental.com.
While working at Legacy I heard about Dr. Palmers passing. I had a bunch of people telling me to call and offer my help. It was something I just wasn't comfortable doing, how do you talk to the wife of someone who has died that soon after his passing? I'm not good with that kind of stuff. Before I knew it the opportunity had passed (at least I thought so). Then about 5 months later I recieved a phone call. Dr. Palmers practice was back up for sale. I called and talked to Dr. Palmer's wife and everything fell into place. She is a brave person, I am glad I had the chance to buy this practice from her.
I hope to blog about the aspects of dentistry that I enjoy, and also about the positive evolution of this new dental practice. I am excited to be a part of a great community like Spanish Fork.  I grew up in Springville and I am amazed at how progressive Spanish Fork has been.  This town is growing, and they are bringing in some great businesses. I can see this place becoming a major hub in central Utah. It is exciting to see these changes. 
If you are reading this, thanks for taking the time to read. I would like to invite any of you to come and see me. We are doing everything we can to make every dental visit a little less stressful for our patients. Come and see what we have to offer.
Thanks
Brad N Strong DDS