Click HERE if you want some ideas on how to get the food OUT.  Read below for some info on how to permanently fix the problem.

This week (and every week really) I see a lot of people that get food stuck between their teeth. For a lot of people it is a great reminder to floss regularly (at least that is what they tell me). Most don't think it is a big deal and don't want to fix the cause of the problem. They are ok to live with it. For a long time I had a spot where food was getting stuck between my teeth every time I ate meat.  I LOVE meat!!  It was very common for the area to become a little bit achy and sensitive to pressure. It would bleed every time I flossed (not a good thing).  I let it annoy me for almost a year.
I remember one time my wife and I had been to dinner and were just getting into a great movie. The pain from the meat stuck between my teeth was getting very intense. I didn't have any dental floss on me, the only thing I could see to use was the straw from the drink I had purchased at the movie theater.  I started digging between my teeth like crazy with that straw, but I just couldn't get that meat out. Finally I left the movie and went to the bathroom to use the mirror.  I was still not getting that chunk out of there.  My wife texted me, "where are you, what is going on?".  I texted back the details of my predicament.  Luckily she had some floss in her purse (the things found in purses still amaze me), she came to the bathroom and, with the floss, I was able to get that chunk of meat out. 
After that I asked a friend of mine to fix the problem. After a quick filling I feel great.  I wish I would have fixed the problem long before I had to suffer so needlessly.  
So now comes the question, "Is it a big deal to have a spot where food gets stuck between your teeth?".  You all know I am going to say yes. YES!  Every time you get food stuck between your teeth it can cause multiple dental problems.  Bacteria that live in our mouths can take that food and use it as fuel to multiply. As they multiply they can invade the gums and tissue around the teeth. Eventually they may even make it to the bone under the gums. More often as they get near the bone, the bone pulls away (periodontal disease bone loss). The bacteria may also invade the tooth (decay or cavity). More often BOTH happen.  Even if you clean out that food with floss or a toothpick there are still small remnants of food present. Bacteria are just little guys, they don't need much fuel to get excited. 
So why do we get food stuck between our teeth?
1. A cracked tooth or cavity between the teeth that caused a small space to form between the teeth.
-Usually easily fixed with a filling if small, or a crown if not so small
2. A filling or crown that doesn't have contact with the tooth adjacent to it. A filling or crown with an overhanging portion that sticks out and grabs food.
-If you get a crown or a filling and you start to trap food you need to go back to the dentist and tell him/her something is wrong. Sometimes the dentist didn't get the filling tight enough to the adjacent tooth, sometimes there is some excess material that needs to be trimmed properly, or sometimes the cavity is too big for a filling and really needs a crown to properly close the space. These things happen, even to the best dentist. 
3. Receeded gums that caused spaces to be opened up between the root surfaces.
-This is a tough one, on this one a good tool is the proxy brush.  It's a little Christmas tree looking brush that can get in between the teeth and clean better than floss or a toothpick.
4. Teeth that have moved for one reason or another. 
-Most common reason for teeth moving is periodontal disease that have allowed the teeth to be loose.
A few case study's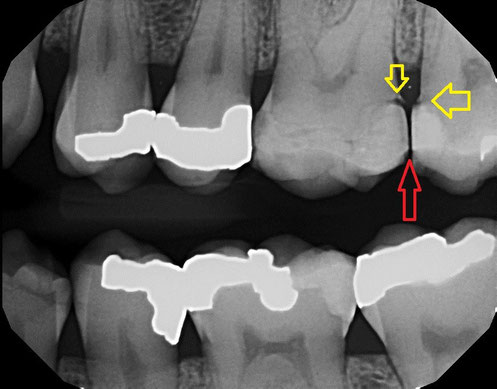 On the upper right of this x-ray you can see there are two fillings that just don't quite touch. That little gap between the fillings is the perfect space for food to get "jammed" in between the fillings. The red arrow shows the gap where the fillings/teeth do not touch. The yellow arrows show where cavities are creeping in under the fillings. We ended up replacing both of these fillings with proper contour to prevent food from lodging in between the teeth.  The ultimate test is to floss the area and make sure the floss "snaps" through.  If it passes through without snapping there is a potential problem. This one at this point is the fault of the dentist that placed those fillings (Not me here, these two fillings belong to another dentist).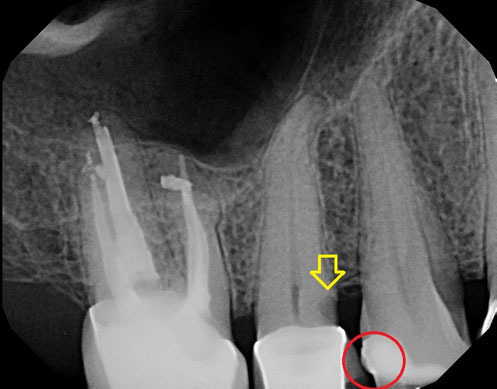 This gentleman came in for a routine cleaning and exam.  When I told him he had a cavity on the root surface of his tooth, under his crown, he was very surprised.  Honestly, he was very upset.  He said, "let me ask you something.  How can I get a cavity on that tooth when it already has a crown on it?"  That's a great question. Crowns aren't cheap (at least the good ones aren't) and nobody wants to pay to crown a tooth twice.  
Well here's why. If you look at the lower right of the x-ray you can see the yellow arrow pointing to the cavity.  The red circle is the reason.  The filling on the tooth in front of the crown is broken and chipped.  That broken spot is causing food to get stuck between the teeth, that food caused the tooth to decay under the crown. We removed the old crown and the decay was more extensive than even appeared on the x-ray.  Had we waited any longer the patient may have needed a root canal in addition to a new crown.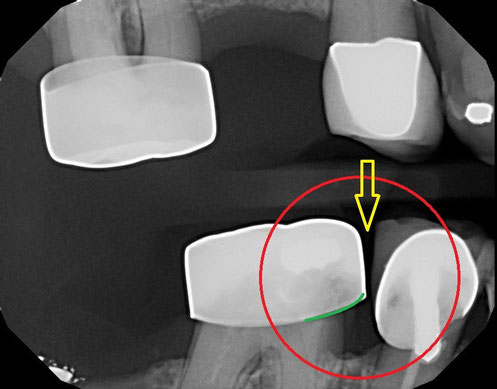 This patient is a nice older lady.  She has a couple of problems in this area. The yellow arrow shows the gap between the two crowns. I looked in there and found 2.5 meals stowed away for future consumption. Her gums were bleeding and swollen.  She claimed she had no problems with the area. The second problem is highlighted by the green line. It shows a poorly fitting crown on that molar.  The edge of the crown is grabbing food and packing it in between the teeth. This crown was placed years ago by a dentist that was trying to give this patient a temporary fix for a broken tooth. It is a stainless steel crown similar to those used on little kids.  They are only meant to be placed for a few months on adults.  This one has been here for many many years. Now she has a very deep cavity on the molar AND on the tooth in front of the molar. Now she needs two new crowns. Look at the crown above the red circle.  It is a beautiful crown that was done properly.  It is going strong and should continue to do great for a long time. 
Summary
Well, this is getting longer than I anticipated.  Here is the summary, if you are getting food stuck between your teeth you need to tell  your dentist. He or She can help you fix the problem or prevent any future problems.  Just a note, every case posted above is a case I saw in the last 2 days, and I could have posted more. This stuff happens all the time to a lot of normal people. 
If you can't get in to see your dentist right away here are some tips:
1. Keep that area flossed.  Don't let food sit in there, you will need to floss right after each meal. Be careful with toothpicks.  They can do more harm than good.
2. Brush some Listerine into the area each night before going to bed. Dip your tooth brush into some listerine and brush your gums where you get the food stuck. Rinsing alone won't be enough. It just doesn't get in there deep enough.